Time Master Pro also provides 5 Different LED light wavelength settings including:Red/Blue/Green/Multiple (red, blue, green together), and Multi-Flashing Mode which allows users to set this device to the mode, or modes best suited to individulal needs.
This device provides a professional Grade of frequency. Treatment times are recommended for not more than 10 minutes time. because of the professional level of power Time Master Pro is  suggested for use 1-2 times weekly for a 10 minute session, and not more.
Time Master Pro fully charges in 30 to 60 minutes. It has automatic timer, and will turn off after 10 minutes of use time.
Device measures 7 inches tall x 1-3/4 inches wide x 1-1/2 inches deep. The round head of device is 1-1/2 inches in diameter and is a very light weight at only 3.5 ounces.
The power of 90,000 sound waves per second creates only a slight warming to the skin that may or may not be detectable during use (dependent on user).
The Time Master Pro device Includes an internal lithium battery that may need replacement approximately every 2 years, along with a special screwdriver style tool (located under the tray of the product box).  Replacement batteries are available for purchase however it is not recommended to purchase prior to immediate need/ or for longterm storage.
PLEASE NOTE ALL OF THE FOLLOWING CONTRAINDICATIONS (listed below) PRIOR TO CONSIDERING PURCHASE:

Contraindications of Ultrasound Therapy & LED:
For external use only and not to exceed the recommended maximum of 10 minutes
Do not use on broken skin or skin with inflammation, weeping or soreness or on a severe sunburn
Should not be used if you are pregnant or nursing
Do not use over metal pins and plates
Consult a physician before using with pathological skin conditions, a heart beat regulating medication / heart complaints, have a pacemakers or other battery operated and electrical implant, or if you have a neurological disorders including epilepsy or multiple sclerosis, cancer, autoimmune condition, diagnosed heart condition.
Not for use on or by children between 12 and 17 years old without parental supervision and not recommended for children under the age of 12.
For those with dental implants we recommend that you consult with your dental professional/specialist prior to purchase/ use.
ADDITIONAL CONTRAINDICATIONS:
Do not use the Time Master Pro with any other electronic medical devices(s), such as: Pacemakers and other implanted type electronic devices, pump-oxygenators and other electronic medical equipment designed for sustentation, electrocardiographs and other electronic medical devices to be worn by the patient or an implant or an intrauterine contraceptive device.
Do not use the Time Master Pro without prior approval from your healthcare practitioner if are/have:
Pregnant or menstruating
Tumor
Thyroid problems
Metallic implants
Infections
Open wounds or sores
Temperature over 100.4 Fahrenheit
Cardiac health conditions
Extreme hypertension and cerebral infarction
Contagious dermatitis
En-topic dermatitis
Enigma
Herpes
Folliculate acne
Furnculous
Carbuncle
General lupus
Hepatitis
General sclerosis
Madison's Disease
Bleeding, illnesses or injuries as ultrasound increases blood circulation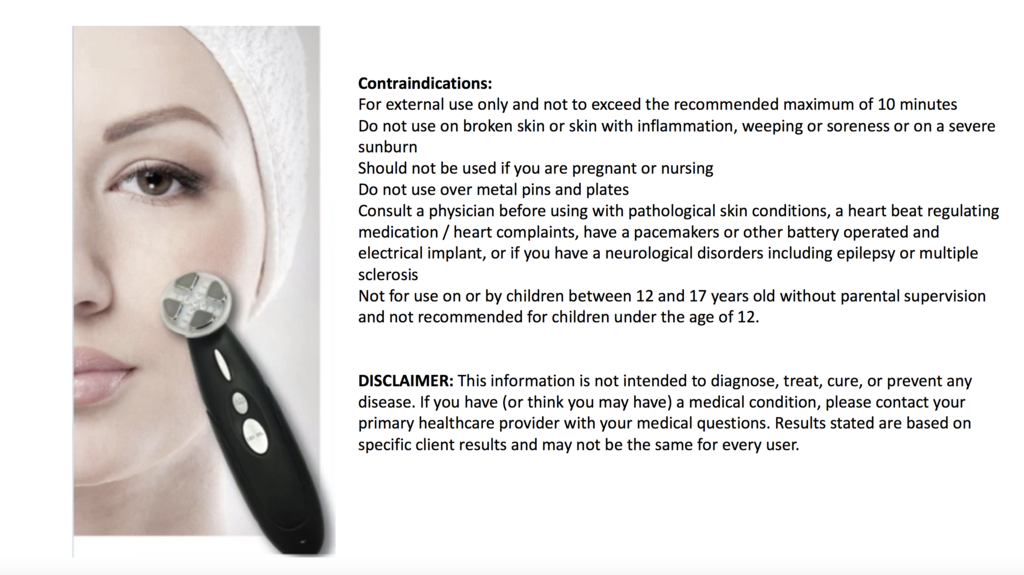 How to Use:
IMPORTANT- Please note:
This device or any other ultrasound device is not for intended for use over eyelids/ eyes, or the area within the eye socket- any area within/inside the orbital bone surrounding the eye when operating on the ultrasound (Low Frequency) setting. While this is not deemed a concern with theLED functions of the Time Master Pro device, we also strongly caution that you avoid looking directly the light source (same as would apply to any other LED, or light source).  The actual brightness emitting from the lights is not an issue with/ without eyes closed however you may also choose to use protective googles as commonly recommended with other LED light devices.
As with all ultrasound, and ultrasonic devices/ device probes- you must keep the contact probes of the device moving over the skin at all times when the device is in operation.  Holding in place when in contact with the skin is never recommended nor is use without conduction medium applied to skin.  If you need to look away, or pause your treatment session (to apply more gel, etc), simply lift contacts off/ away from the skin until you are ready to continue your session.
TIP: Our professionals recommend 1x weekly use of this powerful device preferably beginning on the lowest setting, then with continued use as you see your skin responding favorably to smoothly transition to 2x weekly, and then to slowly increase intensity level if desired.
From the manufacturer:
Time master Pro offers a professional Grade of frequency. Treatment session times are indicated for not more than 10 minutes duration with each use. Due to the professional level of power this device provides, Time Master Pro is  suggested for use 1-2 times weekly for a 10 minute session, and not more.
For use:
Turn on Power, and using the "power" button, set up the intensity Level of the Low Frequency as follows:
1: Sensitive Skin
2: Normal Skin
3: Normal to somewhat Thick Skin
4: Thick Skin
5: OFF applicable when using LED only
When in doubt, start at a lower setting, and work your way up with continued use.
Then Using the "LED SEL" button, set up the LED Mode as follows:
Blue LED: Excellent for Acne, Kill bacteria, Helps to calm sensitive Skin
Green LED: Pigmentation and skin brightening as well as soothing.
Red LED: The most powerful color to increase Blood Circulation, Induct Collagen, Overall Anti-Aging.
Multi LED: All Combined of Red, Blue, Green
Multi Flashing LED: for lifting and tightening. This setting offers output of pulsed light at the highest frequency.
DISCLAIMER: This information is not intended to diagnose, treat, cure, or prevent any disease. If you have (or think you may have) a medical condition, please contact your primary healthcare provider with your medical questions. Results stated are based on general and specific client results and may not be the same for every user.